Pl Van Wagner
Df S & M Enterprises
What happened?
o Michael was the landlord, who leased the property to Van Wagner, and advertiser, who leased it to Asch Advertising.
o Michael sold the building to S&M, then S&M cancel lease with Van Wagner.
o See Picture
Van Wagners Suit
o Commenced this action for declarations that the purported cancellation was ineffective and the lease still in existence, and for specific performance and damages.
S&M Plans.
o S&M purchase the building to demolish it.
Trial Court
o Declared that the lease was valid and subsisting.
o Declined to order specific performance finding that Van Wagner has an adequate remedy at law for damages.
o Court noted that specific performance "would be inequitable in that its effect would be disproportionate in its harm to the defendant and its assistance to plaintiff."
Awarded Lost Revenues
o The court awarded Van Wagner the lost revenues on the Asch sublease for the period through trial, without prejudice to a new action by Van Wagner for subsequent damages if S & M did not permit Van Wagner to reoccupy the space.
o On Van Wagner's motion to resettle the judgment to provide for specific performance, the court adhered to its judgment.
Cross Appeals
o On cross appeals the Appellate Division affirmed, without opinion. We granted both parties leave to appeal.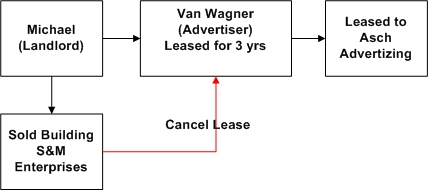 Court Refused to Overturn Trial Courts Findings
o This court refused to overturn the trial courts findings that S&Ms cancellation of Van Wagners lease constituted a breach of contract.
Turning to Remedy For Breach
o Van Wagner seeks specific performance.
o S&M urges money damages, but amount was improper.
Court Trial Courts discretion was not abused.
o While specific performance is available, in appropriate circumstances, for breach of a commercial or residential lease, specific performance of real property leases is not in New York awarded as a matter of course.
Van Wagner Unique Location
o Van Wagner argues that specific performance must be granted in light of the trial court's finding that the "demised space is unique as to location for the particular advertising purpose intended".
Court Uniqueness is not a magical word
o A distinction must be drawn between physical difference and economic interchangeability.
o Uniqueness in the sense of physical difference does not itself dictate the propriety of equitable relief.
Economic Theory
o Economic theory is concerned with the degree to which consumers are willing to substitute the use of one good for
o The underlying assumption being that "every good has substitutes, even if only very poor ones", and that "all goods are ultimately commensurable".
Redressable by Specific Performance
o Specific performance must lie not in any inherent physical uniqueness of the property but instead in the uncertainty of valuing it.
Measuring Money Damages
o What matters, in measuring money damages, is the volume, refinement, and reliability of the available information about substitutes for the subject matter of the breached contract.
Substantial Risk when information is unreliable Increases Risk
o When the relevant information is thin and unreliable, there is a substantial risk that an award of money damages will either exceed or fall short of the promisee's actual loss.
Abundant Amount of Information Reduces Risk
o Conversely, when there is a great deal of consumer behavior generating abundant and highly dependable information about substitutes, the risk of error in measuring the promisee's loss may be reduced at much smaller cost.
Asserting A particular Contract is Unique
o In asserting that the subject matter of a particular contract is unique and has no established market value, a court is really saying that it cannot obtain, at reasonable cost, enough information about substitutes to permit it to calculate an award of money damages without imposing an unacceptably high risk of undercompensation on the injured promisee.
360 Factors Affecting Adequacy of Damages
In determining whether the remedy in damages would be adequate, the following circumstances are significant:
o (a) the difficulty of proving damages with reasonable certainty,
o (b) the difficulty of procuring a suitable substitute performance by means of money awarded as damages, and
o (c) the likelihood that an award of damages could not be collected.
Courts Stance On Uniqueness Main Point of the Case
o The fact that the subject of the contract may be "unique as to location for the particular advertising purpose intended" by the parties does not entitle a plaintiff to the remedy of specific performance.
Courts Reasoning
o The value of commercial billboard space can be readily determined.
o Van Wagner had over 400 leases.
o It is in S&Ms best interest to say that Van Wagners damages are not conjectural, because the court would then say S&M should be compelled to perform its contractual obligation by restoring Van Wagner to the premises.
Holding (Good Test Phrase)
o The trial court, additionally, correctly concluded that specific performance should be denied on the ground that such relief "would be inequitable in that its effect would be disproportionate in its harm to defendant and its assistance to plaintiff".
o There was no abuse of discretion.
o Affirmed.